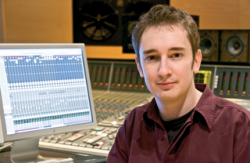 Robert Orton is a producer and three-time Grammy Award winning mix engineer. His mixing career was kick-started after mixing t.A.T.u.'s hugely successful record, 'All The Things She Said'. Now highly sought after in the business, he has continued mixing hits for a long list of artists including Lady Gaga, Usher, Enrique Iglesias, Sean Kingston and Nicole Scherzinger, to name just a few.
Recent Mixes

Lady GaGa
'The Fame' & 'The Fame Monster'

Sean Kingston
'Fire Burning'

Natalia Kills
'Perfectionist'

Enrique Iglesias
'Euphoria'

Jamiroquai
'White Knuckle Ride'

Robbie Williams
'Reality Killed the Video Star'
---
News
June 2011

Darren Hayes releses his new single 'Talk Talk Talk'

April 2011

Watch out for Frankmusik's new single 'Do It In The AM'

April 2011

Natalia Kills releases her debut album 'Perfectionist'

February 2011

Robert wins a Grammy for his mixing on 'The Fame Monster'.